Late in the evening I was back home after a hard working day. I wanted to sleep very much. In the subway car there were two more passengers except for me: a middle-aged woman and a nice girl.
I sat in front of the girl and started gazing at her. She was a brunnette of about 25, brown-eyed and with bright red lips. She had a loose sundress and graceful sandals enhancing the beauty of her small legs with red nails. Her ankle was decorated by a nice bracelet.
I was daydreaming while looking at her. She reminded me my first love by something — I had had a long but a torrid affair with her. But it was suddenly ended when she had to move to another city, and our relations were already withering. But I often remembered her and fantasized about what would be if we had more time for our love. We would have many great days and nights full of passion. I had many girls after her, but I didn't feel anything like that of with her. Our sex was different, amazing and delightful, and I wanted to feel all that again.
When I stopped dreaming, I saw that we stayed alone with the girl at the subway car moving along the dark tunnel. The girl was looking at me and smiling. There were mischievous lights dancing in her eyes. She casually fixed her hair making her shoulder naked for a second. It was pretty sexy! I was starting to get a desire.
The unknown girl followed my reaction. I smiled at her. As a reply, she casually lined her arm along the boobs and leaned down as if she fixed the sandal. At that moment I saw a hollow between her tits very well. I realized that she was playing with me. I was getting horny with it, and I felt that it became too tight in my pants. It was clearly obvious for her. She was staring straight at me, and started moving back and forth on her blossom.
I looked straight at her as well, and she liked it. The girl made her breast naked for a moment and then closed it with her dress. I was very excited. I involuntarily put my hand on my pants where there all was burning with desire. The stranger girl was staring me in the eye and kept playing with her nipples. Then she raised the hem of her dress, and I saw that she had no underwear on. Her wet red pussy with a nice line of black hair was visible. The girl slowly moved her finger along it and caught my hungry look.
I couldn't hold myself back anymore and unfastened the pants. My cock was stiff, and I started moving my hand along it up and down. The girl in front of me caressed her vag. Her fingers ably penetrated the pussy, dove out and touched the swollen pea. I saw it all and wanted to stack it in.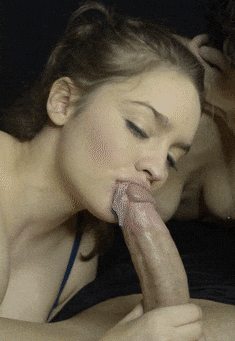 So, we passed sevelal stations. Then she got up, fixed the sundress, and I thought she would go out, but she approached me. She knelt down in front of me, looked me in the eye and started moving with her lips down on my cock. I was so excited that nearly finished at once, but held myself back. The girl kept doing blowjob making red lipstick marks on my cock. It looked spectacular, don't know why. The blowjob was great! She had a perfect command of her tongue.
When she realized I would finish soon, she abruptly got away, pulled all her dress and sat on me. My cock dived into her narrow wet pussy. She rode me, like a skillful horsewoman. In some minutes of such intensive riding I started cumming right into her hot va-jj.
After I had finished she had been sitting on me for a while. Her naked boobs were right in front of my face. I instinctively took her nipple in my mouth and started biting it a little. She moaned. Then she got me off and lay spreading her legs for me to see her overfucked pussy with my sperm flowing out of it. I moved up to her and started caressing her pink hole. The girl moaned again.
Then I got into her with my two fingers and began to move faster. The fucked vag squished with each move, and my random mistress rode my fingers and did handjob for herself. In some minutes of such fucking she finished. Then she lay a little, got up, fixted her sundress and left the subway car at the next station.