My best female friend has always been a beautiful and sexy girl. I have never dared to think of her as a forbidden fruit. But sometimes she blew my mind. The fact that some other guys called her drove me crazy. I was very jealous of her and I was overflowing with emotions, listening to what they talked about at nights. I knew everything about her – how she lived, what she ate and what days she shaved her vagina.
At such moments I sit by the bathroom door and listen to the water sounds, imagining how a sharp blade glides through her wet pussy.
One evening I came home from work late. Having changed my clothes fast, I took a towel and flew past her bedroom. Surprisingly, she wasn't there. It wasn't the first time that something had arisen my suspicion that someone fucked, kissed and hugged her. Whoo, I was already getting horny.
Anger and jealousy chilled me to the bone. But when I calmed down a bit, I came into the bathroom. The light was dimmed in that big room, and I decided to take a shower. I took off my underwear and felt someone's eyes on me. When I turned around, I saw my female friend sleeping on the floor alongside a washing machine. She had an alcohol on her breath and was half-naked.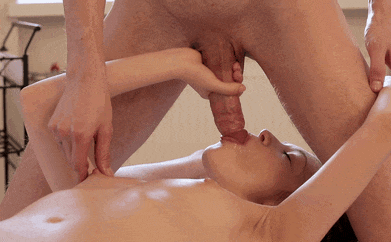 She probably wanted to take a bath, but she didn't manage to get to it. I put on my underwear and tried to wake her up, but it didn't work out. She mumbled something and waved her arms. At that moment I came up with a plan.
I wanted to have sex with her for a long time, but my moral standing didn't allow me to do it, and that time she lay on the floor unconscious and half-naked. I thought that she probably wouldn't remember anything the following day, so I took the case. My dick got hard just thinking about that. And I tried to stick it in her mouth. I opened and held it, preventing it from closing, and then inserted my penis in her throat.
To my surprise, she started to wiggle her tongue and even took my dick in her hand. Perhaps, it wasn't her first time. She was used to it. She began to suck my dick and stroke it with the help of her hands. It was too slow, so I grabbed her by the hair and started to increase the pace of moving on my own. She seemed to like it.
She spread her legs, started to caress her clitoris with one hand and fuck herself with a finger of the other one.
It turned me on, so I pulled my penis out of her mouth and stuck it in her vagina. She started to groan and got totally relaxed, so I had to hold her. I fucked her as hard as I could. It made me sweat, but I couldn't get enough of it. I carefully turned her over, raised her ass, oiled her butthole and put my cock in it. Her anus was warm and tight, just for my penis. I went balls deep in her and simultaneously fucked her pussy with my hand. I went so deep that I almost fisted her vagina.
She started shaking and convulsing and moaning hard. I called her my bitch. I turned her face toward me, raised her head and made her suck my penis in order to cum in her mouth. When I finished, a lot of sperm poured out of me. It was enough to cover her breasts and face.
In the end I washed her a bit and went to bed. In the morning she slowly recovered, opened her eyes and then got out of the bathroom and asked what had happened to her. I told her that I had fucked her. Of course, she didn't believe me and began to call her friends with whom she had supposedly hung out that night, but she couldn't make much sense out of it – they said that she hadn't come over to them.
Still, after that night, I fucked her when she came home drunk once in a while.