My husband who got divorced me, could not still calm down. He comes to me in a daytime, at the night, even sometimes in the moring to give me some money or just to fuck.
After our divorce everything is getting blown up again, but none of us suggested to get together. We started hanging on again, as if we were 20, and we liked it very much.
Our relationships are being forged at the speed of light, maybe faster. Our sexual fantasies come bubbling up, and the love moments became hotter. This time he took me camping to a beautiful river. Even there our fantasy took surrounding subjects into erotic complements.
First he suggested just to relax hearing birdsongs, lying on the grass wrapped in a blanket, and thereafter come to everything else. But a wild stallion was eager to start fucking his tigress, while she was constantly touching the hill on his trousers and kissing his ear.
Leaving no chance to my "boyfriend", I ran deep into the forest and began to make my fantasies into reality. I quickly put on a light peignoir and a thong digging mightly in my ass. My boobs were bulged up, and the nipples were sticked out from under the lace – my husband got highly exited of it.
My panties were getting wet step by step, and my hair messed up so much that a small fragile hairpin was lost somewhere at the high grass and moss.
My lion ran after me and lurked somewhere for a moment. I felt his gaze and breath but kept moving ahead, where it was a little dark – it seemed he won't seek there. I lay down on the grass, spread my legs and became to get something into me not realizing what it was. But I was so highly excited that I couldn't savvy anything.
He called me several times, but without paying attention to his shouting I looked ahead sometimes and kept tugging my nipples. My desire was above his shouting. At last I stopped. A slow ruffle of the leaves and the sway of the trees drowned out my heart beating. And the sound of a woodpecker faded out my breath – it was a panting.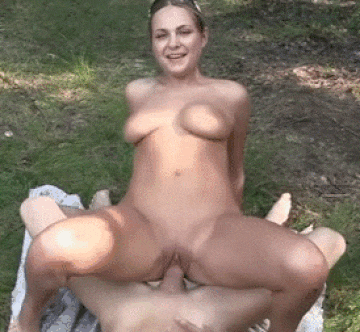 Having viewed the territory, I found a large piece of moss and settled myself on it spreading my legs again. My pussy was wetting and flaming being eager to get fucked by somebody's cock or my hands. It set aside a lot of love and desire juice. I started caressing the clitoris with impatience, slowly taking away the thread of my pants, getting my fingers inside of me and squeezing vagina muscles. Having closed up my eyes, I imagined a stranger standing next to me, or two or three of them – they were gazing at my vag wishing to lick it out. I got my finger inside of me, then – the second, the third and the fourth. My little hole was stretched out beyond recognition, but I felt good and pleased. It all lasted for about 10 minutes. I felt watching me from outside, but didn't expect anything insidious.
"Ah!" – I sqeaked with fear and unexpected attack. He jumped me biting me eagerly and sticking his fingers into my vagina. I got a great orgasm with suddenness and overexcitation and lay down on my stomach. He didn't wait – his stiffy and hungry cock stuck into my pink taco and wiggled and strongly batter in it. I moaned with pleasure! The birds singing something and the forest heard me shout. He took my hair like a mane and skewed my cunt. His dick reached all the way, and I felt a sugar pleasure!
Having released me, he sat. I leaned over and started doing blowjob. His dickhead moved at my cheeks and tongue penetrating deep into my throat. He moaned and took away my hair, enjoyed and moved my head on trying me to swallow his cock deeper. The very nature made the spirit of love and passion stronger. He caught me, tried to hold and punished putting his wet pecker into my mouth.
Changing the love poses, we merged with each other, my juices flew on his balls making us move faster. He loved me tenderly and passionately, we fucked and kissed at different trees.
But it seemed we were destined not to live together.