Fred worked as a casting manager at a small movie company making porn films. There was a problem in it – they had no experienced women for some scenes, as those who they needed were actially ill. Namely, they needed a sexy girl who can make an excellent blowjob!
The deadline was very soon, but they had no actress approptiate for their needs. She should be a really sexy and unselfconscious girl who isn't shy of camera and rather dissolute to make such things.
Fred had his own preferences, and he knew what they needed. But where can they find such an artistic and sexy-skillful girl? He had many familiar candidates and a lot of really great girls, but he was not sure they would fit. So, he decided to have a real casting for an excellent blowjob! And this idea inspired him very much! Why not? Besides, was there anyone else who could (and had to) do it?
What was said, was done. Everything was organized great, and Fred felt he would get a five-star service!
We'll not explain how and where they placed ads about blowjob casting – skillful managers know what they're doing. But the fact is that on approptiate day there was a great deal of very different girls in the hall. Fred and some of his assistants selected five of them – they were really sexy and looked as if they were really skillful blowjob makers!
All of them were invited in a small room. The room was poorly lit, so the atmosphere was rather intimate and conductive to sensual pleasures. The curtains of the windows were half-drawn, there was a few of furinture – only what they needed. The camera was aside ready to functionate.
Fred got undressed. The girls were already free of their garments waiting for the start of the job.
He lay on the bed and put his legs down. The girls got in line in front of him. Fred's cock was not very stiff yet, but almost ready to start getting horny.
The first girl was blond and very sexy, with cool boobs and appetizing shapes. She bent over Fred's cock and took it in her moth. His boner felt the touching of her tongue – it played with the dickhead a little. Then she put her lips down along the cock – it dove deep in the girl's mouth. Fred felt trembling in his body because of the surging wave of pleasure. The girl made some more movings with her mouth – Fred's dick dove into her troat and came out again.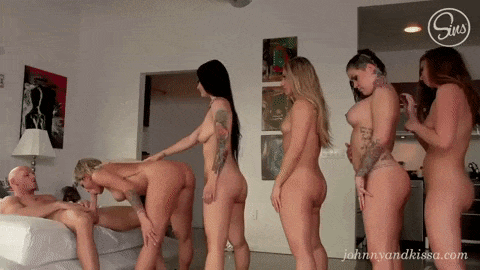 Fred did't want to cum so soon. That is, he wanted to finish after some time after the first girl starged to make her passionate blowjob, but he tried to hold it back. He liked it so much. Besides, he needed to cast other girls before cumming.
He was ready to finish, but he suddenly pulled his penis out of her mouth. He needed to do something to take his mind off. So, he got up, came up to the window and smoke a cigarette. He smoked for about three minutes – the cigarette relaxed him a little. Then Fred came to the bed and lay on it. His boner was ready to get pleasure again.
The second girl was a brunette, she was a bit slimmer than the first one, but no less sexy. She knelt in front of Fred's dick, looked in his eyes, smiled and started to lick the cock from the bottom moving slowly to its top. Than she licked it in the opposite direction. She played by the tip of her tongue with the Fred's cock – with its head and along the trunk. She did it some times, than she put it in her mouth completely and started to make a slow but delightful blowjob. Fred was on the top of pleasure! He hardly stopped himself from cumming and pulled his dick out of her sensual mouth – she didn't want to leave it firstly, but he tried to do it fast, but reluctantly.
Fred went up to the window again, looked out of it for some minutes thinking about something – he needed to take his mind off a little. He had to cast three girls more.
After he was ready to keep doing his job again, he lay on the bed waiting for another girl. She was blond, her hair was longer. She squatted and took Fred's cock in her hand. She started to do movings up and down along his penis making handjob, but it lasted only for some seconds. Then she looked it Fred's eyes, slowly moved to his cock and started to wiggle her tongue on the dickhead. The girl rotated the tip of her tongue gently clockwise of it, then – in the opposite direction. She did it slowly first, than a little faster, than slowly again. After that she took the boner in her mouth and started to lick it without opening the mouth. She didn't want to let it out. It all blew Fred's mind, and he wanted to cum very much! But just before to splooge he pulled his hot penis out of her mouth. She wanted to catch it up with lips, but Fred playfully moved away.
Oh, Fred was so exited! He didn't know how to hold himself back next time. But he had to. He had to relax a little to keep doing his job again. He left the room, walking along the hall for some minutes trying to think about something not related to sex. He hardly could do it, but it let him calm down a little, and he entered the casting room.
There were two girls left. The first of them was a bit curvy, with sensual twinke in her eyes. She came up to the bed (where Fred had already lay on), knelt and took his boner in her mouth. The girl was making a perfect blowjob a little, than she left it out and started to lick Fred's balls making a slow handjob in the same time. Then she wiggled her tongue on his dickhead. After some minutes Fred barely held himself back – he wanted to cum right now. But he pulled his penis out of her mouth again – it was not easy for him, as he was very, very exited! The girl even could put his dick in her mouth again and made some movings with it, but Fred was in time to pull it out – he could hold back cumming now.
This delightful passionate torture drove him crazy! His mind was eager to splash out all that was in his hot boner right that moment, but he didn't wand to deprive himself of the last girl. She was waiting for him – he had to give her the chance to give him unearthy pleasure!
Fred relaxed a bit – less, than earlier, he didn't want to delay any more. He was exited almost to breaking point. The girl had dark reddish hair, rather slim, but very sexy. She was ready to finish all that other girls had just started – she saw Fred being eager to cum right now. But she didn't hurry.
She came to him, touched his belly with her hand and moved it slowly in the direction to his penis. But she just touched it a little, got lower to Fred's balls and swingle it a little making a slow handjob with her other hand. She massaged the bottom of his dick, opened her mouth trying to take his penis into it, but didn't do it – she just pretended doing it moving along her lips with her tongue and looking in Fred's eyes. It lasted a minure or some more. Than she licked Fred's dickhead with the top of her tongue and starged to play with it. Fred moaned of pleasure! Then she put it in her mouth and started to make slow blowjob. Than – faster. Fred started to increase the pace of moving on his own – he wanted to cum so much as never before.
But the girl suddenly stopped. "Do you want to finish?" – she asked him. "Oh, yes!" – Fred said.
"Not now!" – the girl replied. – "I want to get some pleasure too". And she stood up, moved to Fred's head and took it between her tighs – her hot pussy was right in front of his mouth. "Do it!" – she said. She moved her pussy nearer to his mouth – Fred started to caress her clitoris with the top of his tongue. And she took his cock and made slow hanjob in the same time. She was moving her ass left and right, up and down, back and forth. They both felt great pleasure!
Right before they finished, she stood up, turned herself over and lay on him making sixty-nine position. She started to make him really perfect blowjob, while he passionately ate her out. Their movings got faster, more faster! And at last their bodies' jerks got to the last pitch, and they finished both at the same time! Fred 's cum was filling up the whole mouth of the girl, and she was swallowing it with pleasure – there was so much of it now, as never before! They squeezed out all the juices of each-other and relaxed.
Fred was happy – he had just had delightful pleasure. It was a girl of his dreams. It seemed to him, he knew who would be the next moviestar of his films!