A dick moved fitfully in me. A guy tried to cope with impending orgasm, moaned and repeatedly tugged his pelvis…
Nevertheless, he couldn't stop cumming, and his sperm flooded into my heated pussy. I was lying on my side, and my partner, taking me from behind, came hard and cursed with excitement.
I wasn't able to groan in unison with him, since my mouth was too full. I sucked the other guy's dick at that moment. It was my favorite taxi driver who, together with his friends, had fucked me on the highway a couple of weeks before that. He put his huge cock into my mouth again, and, in the meantime, his mate slaked his lust with the help of my vagina.
Having caught his breath, the guy uttered, "A perfect bitch."
"You haven't developed a taste for her yet", replied the cab driver, accelerating the pace of fucking me. "We once had a foursome with her, and that's when we fucked her properly. Her asshole is a thing."
"Oh, what a great idea!" his friend said joyfully. "Come on, sweetie. Have your ass ready for me. My pecker is waiting to see it."
I stopped sucking my taxi driver's dick, and the guys switched places. The cab driver lay down on his back between my legs, went balls deep into my vag and started to fuck his slut leisurely, making sweeping movements, whereas his mate who had pumped me full of sperm earlier set to fucking me in my mouth in the hope that he would enjoy my butt shortly.
Of course, he succeeded. Having regained his strength with the help of my sweet skillful lips, the guy pulled his penis out of my mouth. It was long and thin. That was exactly what my booty needed.
The taxi driver's thick cock, being captured by my vagina, continued to bang me over and over again. I wasn't about to show off, pretending to be a proper lady, and just began to tease him, crumpling my tits and giving him a flirty stare like a real slut, and saddled up the man sprawled in a bed gladly. His dick was pleased to dive into my hot pussy and moved back and forth.
After that, I felt someone behind me and heard him groaning right in my ear. I immediately felt something penetrating rapidly into my asshole. Of course, that was my second lover. His long cock entered my ass fully. And the thing that got me most excited was that his dick went into my butthole in one move. Without giving me a respite, he started to fuck my butt properly.
At the same time, I really enjoyed the pace that my taxi driver kept. His thick and strong penis slid across my vag smoothly. I was just yipping in rhythm with his movements, sensing two men inside of me. After a while, the guys came inside of me. That was like two high-powered shots. My vagina and ass took the men's splooge with pleasure.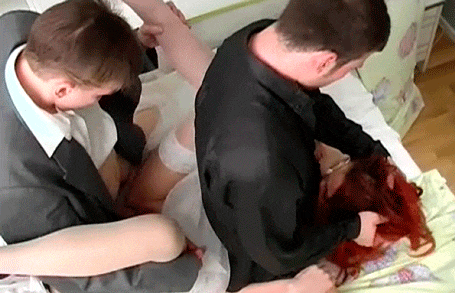 However, two dicks are nothing compared to what I felt when I had been engaged in true group sex.
But the cab driver didn't rush to repeat the gangbang after we had had a foursome. First time, he met me after work. By the way, I'm a waitress in a club.
I was always prepared for a rendezvous with him. After 12 hours of hard work, I could afford to have a glass of champagne and let something get into my pussy.
Sometimes it was a passionate club-goer's dick. I really liked it when a tipsy man was getting warmed up on the dancefloor, and then cornered me in a dark room and pulled my skirt up brutally, dipping his cock into my wet vagina. Sometimes it was our chef's friendly dick when I, being in the kitchen, turned my back on him and bended over unintentionally (or intentionally?) in front of him.
Our cook liked to fuck me in the storeroom, on the refrigerator, lifting my skirt up to my chin. Occasionally, he decorated my nipples with whipped cream and moisturized my pussy with olive oil.
That is all well and good, but nothing compares to having a foursome with those men on the highway. That orgy on the hood of a taxi cab was unforgettable.
What was gentle morning sex with any of security guards like? It doesn't really count as sex. Having finished cleaning tables and watching the clubbers, bouncing on the dancefloor at 4:00 a.m., I usually gave myself to one of the club-goers or served our chef. My goodness, what a tasty dish his сum was!
After that, jiggling my hips, I went down to a security room, pulled down my uniform skirt, unbuttoned my blouse, exposing my gorgeous breasts, and my tight pussy was awarded a dick by a guard who was on duty at that time.
Sometimes there were two of them if one more lucky guard worked on my shift. He also joined us and we had a mini-orgy. One of them put his cock into my vagina, whereas the other one inserted it into my mouth. I got good at having an orgasm within several minutes. Thus, I was getting warmed up before having sex with my taxi driver.
At the end of my shift, he picked me up outside the club. Instead of greeting him, I started to give him a blowjob. He always penetrated his balls deep into my throat. During this time, my driver taxied to a dark corner, got me out of the car, undressed me, sat me down bare-assed on the hood and inserted his horny dick into my lustful pussy impatiently.
And all I could do was squeak with pleasure under his pressure and pop my feet up as high as possible, as the man was getting into it.
And then, he just pulled me off the hood harshly. I caught the flow of sperm with my mouth and started to suck the cherished dick again. Having regained my lover's strength, I lay down on my tits, spread my buttocks wide and offered him to go straight to dessert, namely, my asshole. And I have never got a refusal.
His dick slid smoothly inside of my prurient ass. The driver increased the pace of fucking me. After 10 minutes of performing back-and-forth motions, during which I felt all the curves of his cock with my rectum, he pumped my ass full of first-class cum.
After he brought me home, instead of saying goodbye, I gave him one more blowjob one last time. I squeezed the head of his cock with my lips and moved my head up and down devotedly, licked and stroked his balls. And, in the end, he accelerated the movement of his pelvis and, groaning, came hard into my mouth.